FS-DCM-50 Dispersion Compensation Module
The Fiberinthebox Dispersion Compensation Module (FSDCM) provides negative dispersion for dense wavelength division multiplexing (DWDM) transmission systems and can be used to compensate dispersion on standard single-mode optical fiber (SMF) across the entire C-Band. The small form factor (SFF) of the FSDCM enables extended DWDM transmission in a very small footprint. When combined with Fiberinthebox transponders and amplifiers, the WRDCM provides a simple, reliable, and cost-effective DWDM transpo solution.

The FSDCM-20, -30, and -40 are specifically targeted for link pre-compensation and may be used before a booster amplifier. The FSDCM-20, -30, -40, -50, and -60 may be used for inline compensation or for post-preamp applications. The WRDCM can suppo single- or multi-channel (C-Band) applications at both 2.5 and 10 G line rates.

FS DCM can compensate the dispersion with optimized residual dispersion for standard single-mode fiber (G.652) in the C-band.The modules based on mature and reliable optical fiber technology with excellent performance for optical transmission system. DCM modules are available with any dispersion values from -10 to -2100 ps/nm at 1550nm wavelength. We Fiberinthebox stock a diverse selection of DCM, range from 10KM to 120KM.
Key Features
100% slope compensation of G.652 fiber in C-band (Typical) Low Polarization Mode Dispersion Compensates standard single-mode optical fiber (G.652) Compatible with C-Band DWDM optical channels Low end-to-end inse ion lossVariety of compensation lengths19-inch 1RU rack mountable design
Applications
Provides dispersion compensation for extended reach applications Provides pre- and post-compensation Provides single- or multi-channel dispersion compensation

Typical Application Cases of FS-DCM Series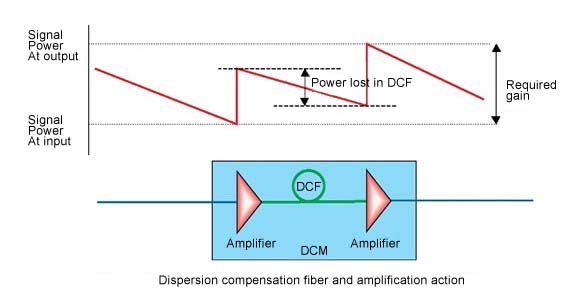 Compensated for the signal loss from DCF(dispersion compensating fiber) with amplifiers(a 5-km DCF may cause 2.5-dB losses.)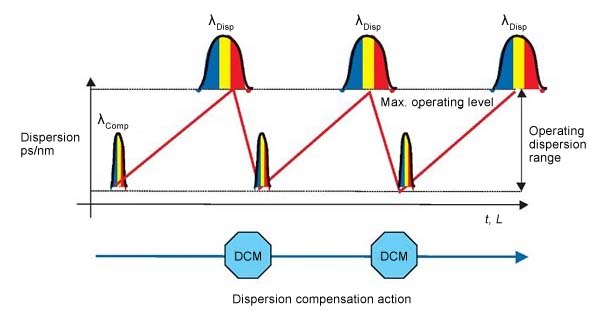 Dispersion compensating modules (DCM) have been engineered that are used in systems and/or in regenerators to help increase the span of fiber.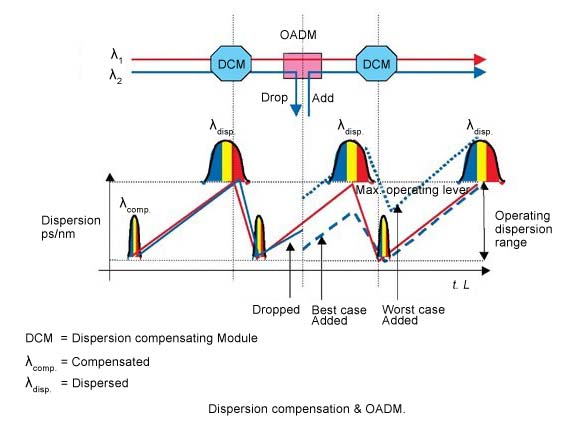 Optical add-drop multiplexers (OADM) may limit the dispersion. The reason is that the dispersion characteristics of a dropped signal and an added are not the same. This picture illustrates the point for the best and worst cases.

Ordering Information
| | |
| --- | --- |
| Product Code | Description |
| FS-DCM-10 | 10 km Dispersion compensation module |
| FS-DCM-20 | 20 km Dispersion compensation module |
| FS-DCM-30 | 30 km Dispersion compensation module |
| FS-DCM-40 | 40 km Dispersion compensation module |
| FS-DCM-50 | 50 km Dispersion compensation module |
| FS-DCM-60 | 60 km Dispersion compensation module |
| FS-DCM-70 | 70 km Dispersion compensation module |
| FS-DCM-80 | 80 km Dispersion compensation module |
| FS-DCM-100 | 100 km Dispersion compensation module |
| FS-DCM-120 | 120 km Dispersion compensation module |
Specifications
Product

DCM-20

DCM-30

DCM-40

DCM-50

DCM-60

Optical Characteristics

 

Insertion Loss (dB)1

2.7

3.3

4.0

4.3

5.4

Dispersion ±2% (ps/nm) 2

–325

–487

–650

–812

–974

PMD (ps)

0.29

0.36

0.42

0.45

0.51

Physical Characteristics

 

Size (W x H x D)

25.4 x 223 x 175 mm(1 x 6.89 x 8.8 in)

Optical connectors and fiber type (all ports)

LC/PC bulkhead

Weight

0.36 kg(0.76 lb)

Environmental Characteristics

 

Operating ambient temperature

–5°C ~ 55°C

Storage temperature

–40°C ~ 85°C

Relative humidity(non-condensing)

5% ~ 95%